Fishing at Two Inlets Resort
If you enjoy fishing, then you're in for a treat when you stay at Two Inlets Resort!
Located on the shores of beautiful Two Inlets Lake, this Minnesota destination makes it easy to cast your line for a variety of species.
Teeming with walleye, crappie, bluegill, bass, and northern pike, Two Inlets Lake is the ultimate spot for making that trophy catch or at least having fun while trying!
Bring your own boat or rent one of the resort's various fishing boats. We also offer dock fishing, a fishing pier, and canoes and kayaks for fishing trips, too. However you decide to spend your fishing vacation, you're sure to have an unforgettable time at Two Inlets!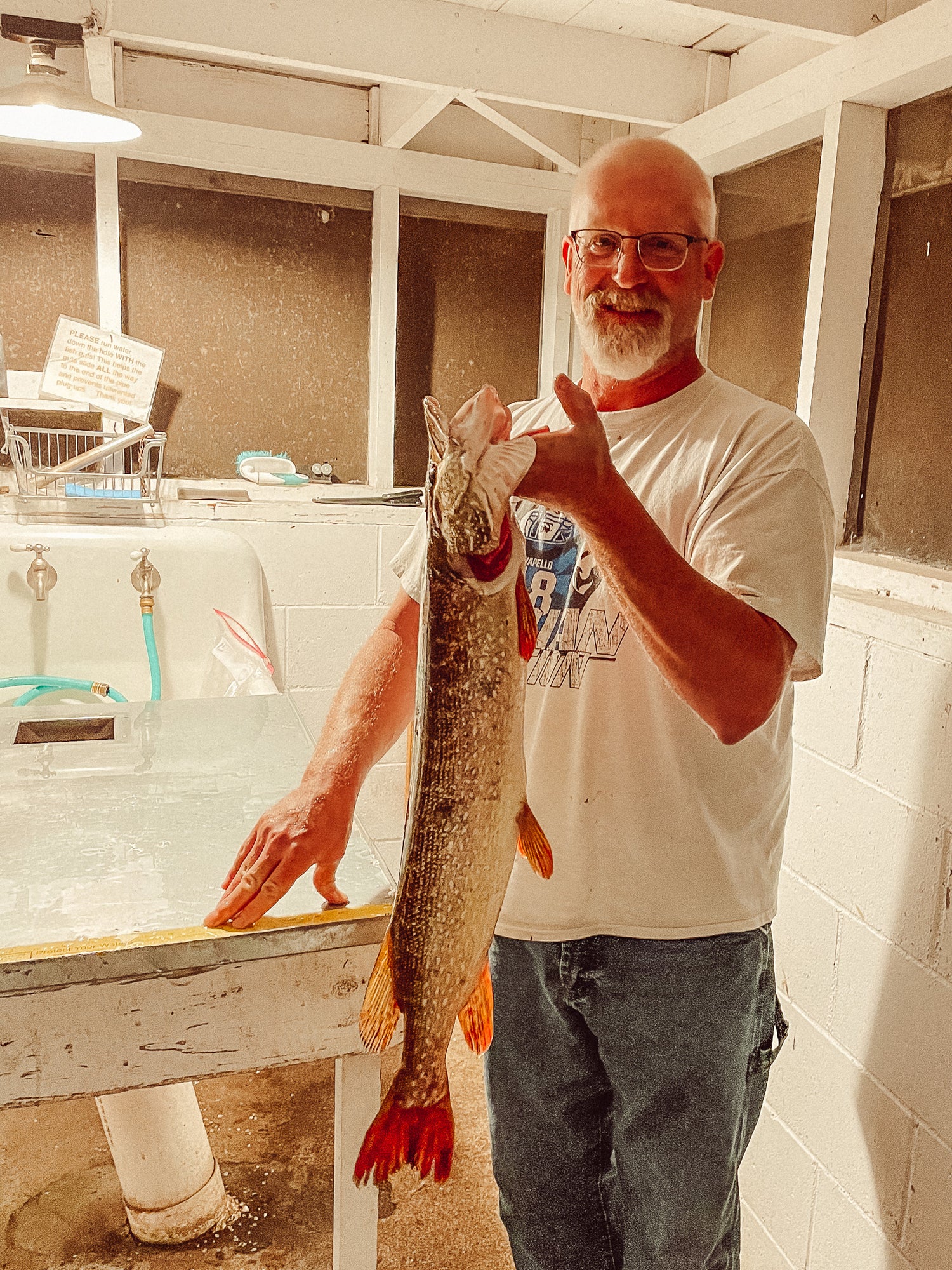 Fish in Two Inlets Lake
Walleye abundance has been consistent in previous years on Two Inlets Lake, and at the high end of class 25 lakes. Many Walleyes are a great size for anglers of 12-18 inches, with a number of smaller fish for the future. The average length was 14.5 inches, with the largest sampled at 28 inches. Yellow Perch are important forage for Walleye and Northern Pike, and perch abundance was well above other class 25 lakes. Yellow Perch had an average size of 6 inches and fish were sampled up to 8.5 inches.

Northern Pike abundance was high compared to class 25 lakes, and in line with past surveys. Pike ranged from 8 inches to 34 inches in length. The average size of 21 inches and 2.1 pounds was similar to past surveys on Two Inlets.

Largemouth Bass were sampled by spring electrofishing. The catch rate was the highest of three samples. Bass ranged from 5-19.5 inches, with most fish 14-18 inches.

Angling opportunities for panfish include Black Crappie, Bluegill and Pumpkinseed. Black Crappie numbers were high compared to other class 25 lakes. Most Crappies were 8-12 inches. Bluegill and Pumpkinseed abundance was similar to recent years on Two Inlets, with fish ranging from 3-9.5 inches.
Fishing Forecast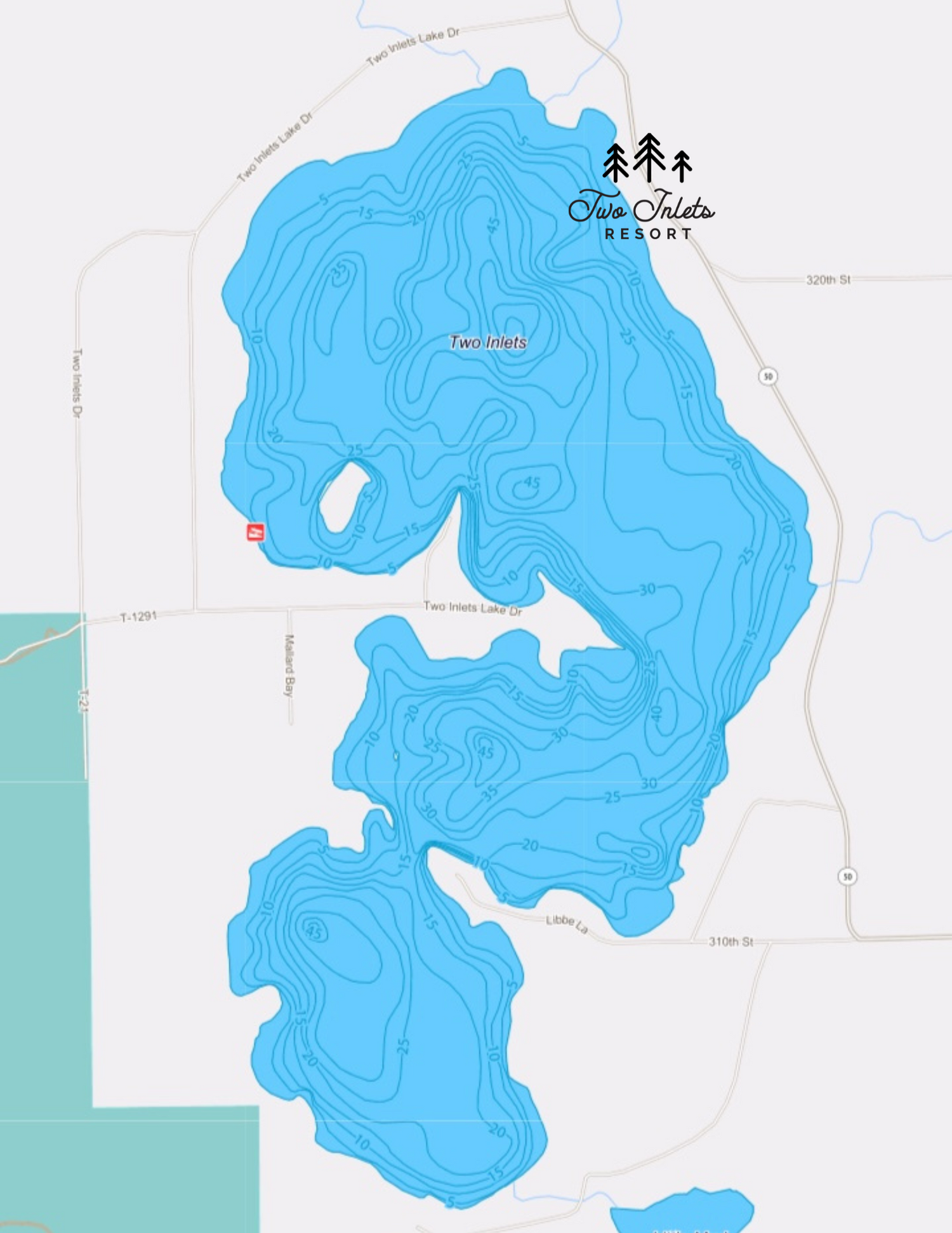 Two Inlets Lake
We are located on beautiful Two Inlets Lake near the famous Itasca State Park and only thirteen miles from Park Rapids, Minnesota.
Two Inlets Lake is 578 acres in size with a maximum depth of 60 feet. The clarity of the lake is 6 feet which makes fish (especially walleyes) more likely to bite during the daylight hours.Two Inlets Lake has a lot of structure and weed growth for supporting gamefish and their forage. This includes points, islands, inlets, humps, flats and bays.
Boat Access:
A Department of Natural Resources (DNR) owned public access is located on the northwest shore of the lake, about a mile from Two Inlets Resort.

Aquatic Species:
Currently, we have NO Aquatic Invasive Species (AIS) have been identified in Two Inlets Lake. To avoid spreading AIS, lake users are required to remove all aquatic plants or animals from their watercraft and drain all water from their boat before leaving the access.
Lake Map